PET Recycling Growth in South Africa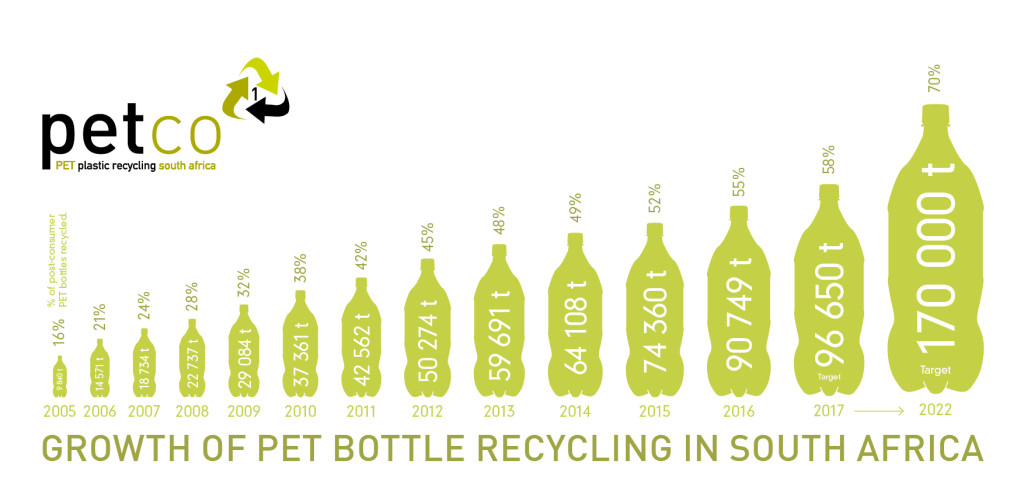 PETCO, the organization responsible for fulfilling the South African PET plastic industry's role of Extended Producer Responsibility (EPR), recently announced their annual PET recycling rate had increased from 52% of post-consumer bottle PET in 2015 to 55% in 2016, exceeding their expected target for the second consecutive year.
PETCO recycled an additional 22% of post-consumer bottles in comparison to the previous year, with the total PET market growing by 14.8% to 241,269 tonnes.
"PETCO is delighted with the latest figures," says PETCO's CEO Cheri Scholtz. "Through the remarkable network of people, companies and organisations we work with, 2 billion PET bottles were collected for recycling across South Africa during the course of 2016, creating some 62,000 income opportunities for small and micro-collectors, and changing their lives and those of their families in immeasurable ways."
The voluntary recycling fee paid annually by PETCO members on every tonne of raw material purchased has enabled the payment of a total of R1.9 billion (~ €130 million or ~US$142 million) by contracted recyclers to collectors for baled bottles since the inception of PETCO in 2004, ensuring the collection of PET bottles for recycling is sustained, and resulting in almost 800,000 tonnes of carbon and over 3 million m3 of landfill space saved to date.
PETCO reports that South Africa's 55% post-consumer PET recycling rate compares well with international PET recycling rates of ~ 30% in the US and European average rates of ~ 59%. However, PETCO also notes that considerable work is being done globally to understand these statistics, as the bases differ substantially and a direct comparison cannot be assumed.
Information and graphic supplied by PETCO.
Share