UNIDO and Dell Cooperate on E-waste Solutions in Africa, Asia and Latin America
The United Nations Industrial Development Organization (UNIDO) and Dell (a GlobalPSC Corporate Member) have signed an agreement to cooperate on identifying and implementing a sustainable solution model for e-waste management for developing countries in Africa, Asia and Latin America. Developing countries are expected to account for the majority of discarded electronics by 2016, and twice that of developed regions by 2030.
The memorandum of understanding signed by UNIDO's Director General LI Yong and Dell Inc.'s Executive Director of Sustainability David Lear (pictured below with Jean Cox-Kearns, Director of Compliance – Dell Global Takeback), commits the two organizations to work together for a five-year period, with an option to extend the partnership.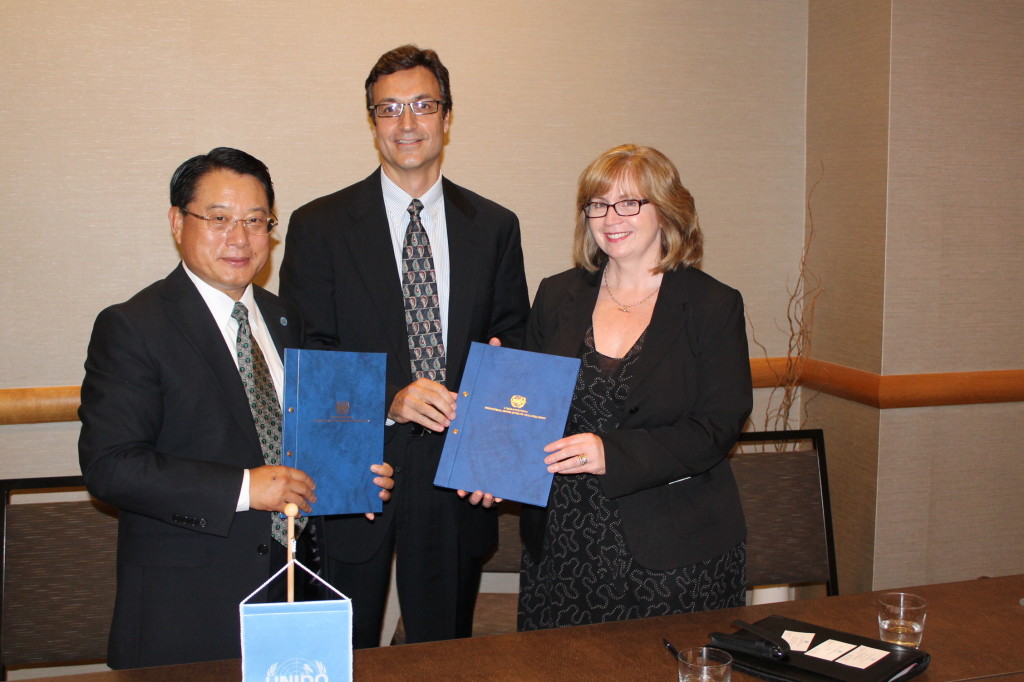 "Enabling recycling infrastructure in developing countries has significant benefits for the environment and local community, and facilitates Dell with the recovery of valuable resources currently being discarded. Together with UNIDO we will work to establish or up-scale facilities to operate environmentally sound management practices that meet international standards for e-waste recycling and further powers the circular economy for IT," said Lear.
Lear added, "We are going to continue to support governments in developing effective regulations and policies for e-waste management. Since policy development is a multi-stage process, Dell and UNIDO will support governments in the dialogue and dissemination activities to accompany the various stages of policy development, and this will include organizing and participating in consultation meetings with major stakeholder groups representing industry associations, civil society groups, formal and informal sector collectors, recyclers and representative associations."
Through the collaboration, UNIDO and Dell aim to create awareness, build capacity, and engage in knowledge sharing and policy advocacy with regard to sustainable e-waste management; to support the creation of an operational and economically viable collection network, and dismantling and recycling facilities, to process e-waste in developing countries in a safe and environmentally sound way; and to support the development of local recycling infrastructure, contributing to the industrial development of these countries and creating sustainable, green economies.
UNIDO has an established e-waste program that addresses the full life cycle of ICT equipment by properly dismantling and recycling it once the equipment has become obsolete. The program aims to foster the development of an environmentally sound e-waste recycling industry in developing countries.
With the active support of 35 National Cleaner Production Centres, UNIDO focuses on promoting an environmental service industry in developing countries; preparing national e-waste assessment reports; establishing partnerships with national and international institutions from the public and private sector; and facilitating the establishment of local and regional e-waste dismantling and recycling facilities.
Dell began integrating sustainability features into its products and processes nearly 30 years ago with designs that were upgradable, serviceable and recyclable because it was good for business, customers, and the environment. Dell is building on this commitment through its recently launched Legacy of Good plan outlining its vision for 2020. As part of this plan, Dell has a goal to eliminate two billion pounds of used electronics by 2020, which will be achieved through Dell's recycling programs for homes and businesses in 78 countries.
Share